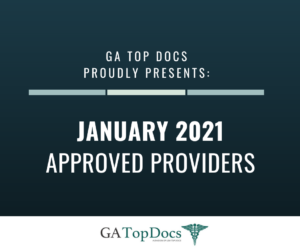 GA Top Docs and GA Top Dentists are proud to present the following recently reviewed and approved providers for January 2021.
GA Top Docs Include:
Cardiology
Dr. Yuri B. Pride
Dr. Byron R. Williams III
General Surgery
Dr. Karleena R. Tuggle
Dr. Hernan D. Urrego
Hematology / Oncology
Internal Medicine
Dr. Natasha Travis
Dr. Ronald P. Trible Jr.
Dr. Frederick E. Turton
Dr. Kamal N. Ummed
Neurological Surgery
Neurology
Orthopedic Surgery
Dr. Mathew E. Levine
Dr. Robert M. Titelman
Pediatric Neurology
Pediatrics
Dr. Daniel M. Torrez
Dr. Neill Videlefsky
Radiation Oncology
Urological Surgery
Dr. John Maxwell White Jr.